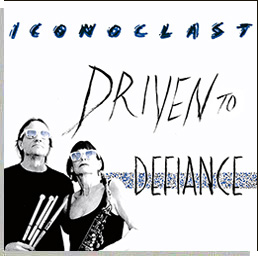 DRIVEN TO DEFIANCE (Fang Records, IC-989-17, 2017)

1. Nothing Untold 5:29*
2. One Hundred Verticals 5:47
3. Too Late to Worry 2:55*
4. More of Plenty 4:27
5. Thinking Thoughts 1:23
6. You Are So Very Touchable 2:28
7. Spheres of Influence 8:33
8. The Flat Magnetic Girl 3:06
9. Part of the Hour 9:03
10. The Customary Slip 3:41
11. Luck is Relative 4:46
Bonus Track:
12. Take 18 (Live at Funkadelic) 3:24**

Julie Joslyn: Alto saxophone, violin, live electronics, vocals
Leo Ciesa: Drums, keyboards, grand piano, Pro-Mark drumsticks and mallets


All Compositions by ICONOCLAST
Produced by ICONOCLAST

Recorded, mixed and mastered by Christopher Howard
Studio Assistants: Chris Meyer, Brett Ettinger, Emanuele Mocchetti

Recorded July 7 & 8, 2016 at Water Music, Hoboken, NJ
Mixed at Water Music, Hoboken, NJ
Mastered at PAD Productions, Brooklyn, NY with the assistance of Patrick Derivaz

Leo Ciesa plays Pro-Mark drumsticks and mallets exclusively
Thank you to Roberto Romeo ( NYC) for saxophone maintenance and for his generosity
Thank you to Rob Grenoble at Water Music

Graphics, Photo and Design: Josh Brown
Disc Art: Julie Joslyn
Back Cover Photo: Mocvara in Zagreb, Croatia

This CD commemorates thirty years of ICONOCLAST. The cover is an homage to our first recording, Sins of New York, released as a cassette tape.